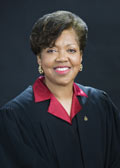 Senior District Judge Saundra Brown Armstrong
Oakland Courthouse
1301 Clay Street, Oakland, CA 94612

View Judge Armstrong's Schedule of Upcoming Proceedings…
View Scheduling Notes…
Weekly Court Calendar Schedule

| | | |
| --- | --- | --- |
| Criminal Law & Motion | 2nd Wednesday of Month | 1:00 p.m. |
| Civil Law & Motion | 2nd Wednesday of Month | 2:00 p.m. |
| Trial Days | Monday-Friday | 10:00 a.m.-3:30 p.m. |
| Case Management Conferences | 1st, 3rd & 5th Wednesdays & every Thursday, by Telephone | Court will schedule time. |
Courtesy/Chambers Copy Requirements
The submission of chambers copies is often required for electronically filed documents. Whereas the local rules state whether and how soon chambers copies must be submitted, judges' individual standing orders sometimes create additional requirements and may differ from the local rules in other particulars. If they are not in agreement, these orders supersede the local rules.
View general information requirements for courtesy/chambers copies under the local rules.
The pertinent parts of Judge Armstrong's standing orders are set forth below:
Courtesy copies are required for all filings that necessitate action by the Court, including motions, stipulations and other requests (along with supporting documents). Courtesy copies of proofs of service, notices of appearance, ADR certifications and similar administrative filings are not required.
Courtesy copies shall be clearly marked with the case number, judge's initials (SBA), and the designation "Chambers Copy." They shall be submitted to the Clerk's Office within the time prescribed by the Local Rules.
Each individual document must be securely bound at the top or side. Exhibits must be tabbed. Additionally, voluminous filings (those exceeding two inches in thickness) must be submitted in tabbed and indexed binders. Voluminous filings also may be accompanied by a CD-ROM or USB drive where appropriate.
Delivery Address
Ronald V. Dellums Federal Building
& United States Courthouse
Office of the Clerk
1301 Clay Street, Suite 400 S
Oakland, CA 94612
About District Judge Saundra Brown Armstrong
Born 1947 in Oakland, CA
Federal Judicial Service:
Judge, U. S. District Court, Northern District of California
Nominated by George H.W. Bush on April 25, 1991, to a seat vacated by William A. Ingram. Confirmed by the Senate on June 14, 1991, and received commission on June 18, 1991.
Education:
Merritt College, A.A., 1967
California State University, Fresno, B.A., 1969
University of San Francisco School of Law, J.D., 1977
Pacific School of Religion, M.Div., 2012
Professional Career:
Policewoman, Oakland Police Department, Oakland, California, 1970-1977
Judicial extern, California Court of Appeals, 1977
Deputy district attorney, Alameda County, California, 1978-1979, 1980-1982
Senior consultant, California Assembly Committee on Criminal Justice, 1979-1980
Trial attorney, Public Integrity Section, U.S. Department of Justice, 1982-1983
Commissioner, Consumer Product Safety Commission, 1983-1986
Commissioner, U.S. Parole Commission, 1986-1989
Judge, Alameda Superior Court, California, 1989-1991