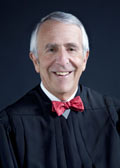 View Judge Breyer's Schedule of Upcoming Proceedings…
View Scheduling Notes
Weekly Court Calendar Schedule
Criminal Law & Motion
Sentencings
Wednesdays
10:00 a.m.
All other matters
Wednesdays
1:30 p.m.
Civil Law & Motion
Fridays
10:00 a.m.
Case Management Conferences
Fridays
8:30 a.m.
Chambers Copy Requirements
The processing of unnecessary chambers copies wastes resources and burdens the court.  Pursuant to Civil Local Rule 5-1(d)(7), chambers copies should not be submitted unless required by the assigned judge's standing order or specifically requested by the assigned judge.
Judges' standing orders may include additional requirements and may differ from the local rules in other particulars.  If they are not in agreement, a judge's standing order supersedes the local rules.
The pertinent parts of Judge Breyer's standing orders are set forth below:
Parties must file a single (no duplicates) courtesy chambers copy of all filings. The courtesy copy must be delivered to the Clerk's Office no later than noon on the court day following the day that the document was electronically filed. (Note: This deadline differs from those in Civil Local Rule 5-1(e)(7)(A).) All chambers copies should be three-hole punched along the left side of the page, and should bear the ECF filing "stamp" (case number, docket number, date, and ECF page number) along the top of the page.
All exhibits shall be clearly delineated with tabs along the right side (e.g., "1", "2", "3"). If the filing includes exhibits over three inches thick, the parties shall place the chambers copy in a binder. The Court prefers double-sided printing for voluminous chambers copies of exhibits, if possible.
Delivery Address
United States District Court
Office of the Clerk
450 Golden Gate Ave, 16th Floor
San Francisco, CA 94102
About District Judge Charles R. Breyer
Born 1941 in San Francisco, CA
Federal Judicial Service:
Judge, U. S. District Court, Northern District of California
Nominated by William J. Clinton on July 24, 1997, to a seat vacated by D. Lowell Jensen. Confirmed by the Senate on November 8, 1997, and received commission on November 12, 1997. Assumed senior status December 31, 2011.
Education:
Harvard College, A.B., 1963
University of California, Berkeley, Boalt Hall School of Law, J.D., 1966
Professional Career:
Law Clerk, Hon. Oliver Carter, U.S. District Court, Northern District of California, 1966-1967
Counsel, Legal Aid Society of San Francisco [California], 1967
Assistant District Attorney, City and County of San Francisco, California, 1967-1973, 1979; Chief Assistant, 1979
Assistant Special Prosecutor, Watergate Special Prosecution Force, 1973-1974
Private practice, San Francisco, California, 1974-1979, 1980-1997
Member, Judicial Conference of the United States, 2006-2010
Member, U.S. Judicial Panel on Multidistrict Litigation, 2011-2018
Vice Chair, U.S. Sentencing Commission, 2013-2016; Commissioner, 2016-present
Recipient, 2018 Devitt Award