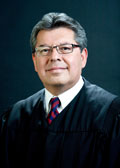 View Judge Davila's Schedule of Upcoming Proceedings…
View Scheduling Notes…
Weekly Court Calendar Schedule

| | | |
| --- | --- | --- |
| Criminal Law & Motion | Mondays | 1:30 p.m. |
| Civil Law and Motion | Thursdays (by reservation only) | 9:00 a.m. |
| Case Management Conferences | Thursdays | 10:00 a.m. |
| Pretrial Conferences | Thursdays | 11:00 a.m. |
| Trial Jury Selection | Tuesdays | 9:00 a.m. |
| Trial | Tuesdays, Wednesdays & Fridays | 9:00 a.m.-12:00 p.m., 1:30 p.m.-4:30 p.m. |
Chambers Copy Requirements
The processing of unnecessary chambers copies wastes resources and burdens the court.  Pursuant to Civil Local Rule 5-1(d)(7), chambers copies should not be submitted unless required by the assigned judge's standing order or specifically requested by the assigned judge.
Judges' standing orders may include additional requirements and may differ from the local rules in other particulars.  If they are not in agreement, a judge's standing order supersedes the local rules.
The pertinent parts of Judge Davila's standing orders are set forth below:
The parties are required to submit chambers copies of pleadings (complaints, answers, cross-complaints, etc.) and briefing and supporting materials for dispositive motions.  The printed copies shall be marked "Chambers Copy – Do Not File" and shall be clearly marked with the case number and name of the assigned judge.  Chambers copies shall be mailed or delivered to the Clerk's Office.
When all or a portion of a filing has been sealed, the parties shall submit only the unredacted version of that filing.  Chambers copies of unredacted documents shall clearly indicate the portions that are subject to sealing orders.
Whenever possible, the spine of a binder containing chambers copies should not exceed three inches in width, even if this limitation results in the use of multiple binders.  Documents should be printed on both sides of each sheet of paper.
Delivery Address
Robert F. Peckham Federal Building
& United States Courthouse
Office of the Clerk
280 South 1st Street
San Jose, CA 95113
About District Judge Edward J. Davila
Born 1952 in Palo Alto, CA
Federal Judicial Service:
Judge, U. S. District Court, Northern District of California
Nominated by Barack Obama on January 5, 2011, to a seat vacated by Marilyn Hall Patel. Confirmed by the Senate on February 14, 2011, and received commission on March 3, 2011.
Education:
California State University, San Diego, B.A., 1976
University of California, Hastings College of the Law, J.D., 1979
Professional Career:
Deputy public defender, Santa Clara County Office of the Public Defender, California, 1981-1988
Private practice, San Jose, California, 1988-2001
Judge, Superior Court of California, County of Santa Clara, 2001-2011