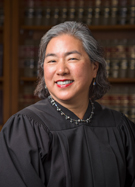 View Judge Ryu's Schedule of Upcoming Proceedings…
View Scheduling Notes…
Weekly Court Calendar Schedule
Civil Law and Motion
2nd & 4th Thursdays
1:00 p.m
Case Management Conferences
1st, 3rd, & 5th Wednesdays of the mont
1:30 p.m
Criminal Duty Matters
Daily During Duty Months
10:00 a.m.
Criminal Law & Motion
Criminal motions are heard during Magistrate Judge Ryu's regular criminal duty calendar.  To request a special setting, contact Ivy Garcia at 510-637-3639.
Chambers Copy Requirements
The processing of unnecessary chambers copies wastes resources and burdens the court.  Pursuant to Civil Local Rule 5-1(d)(7), chambers copies should not be submitted unless required by the assigned judge's standing order or specifically requested by the assigned judge.
Judges' standing orders may include additional requirements and may differ from the local rules in other particulars.  If they are not in agreement, a judge's standing order supersedes the local rules.
The pertinent parts of Judge Ryu's standing orders are set forth below:
Pursuant to Civil L.R. 5-1(e)(7) and 5-2(b), parties must lodge an extra paper copy of certain filings and mark it as a copy for "DMR Chambers." All chambers copies should be double-sided (when possible), three-hole punched along the left side of the page, and should bear the ECF filing "stamp" (case number, docket number, date, and ECF page number) along the top of the page. All exhibits shall be clearly delineated with labels along the right side. If the filing includes exhibits over two inches thick, the parties shall place the chambers copy in a binder.
Delivery Address
Ronald V. Dellums Federal Building
& United States Courthouse
Office of the Clerk
1301 Clay Street, Suite 400 S
Oakland, CA 94612
About Chief Magistrate Judge Donna M. Ryu
Chief Magistrate Judge Donna M. Ryu joined the Northern District bench in March 2010, and has presided over consent cases in a wide variety of fields, including commercial disputes, intellectual property, employment, civil rights, consumer, environmental, maritime, and constitutional law.  She conducts settlement conferences in all major practice areas, and manages discovery in complex matters, including multi-district litigation. Judge Ryu has served on numerous court committees, including Local Rules, Subcommittee on E-Discovery, and Pro Bono Projects, among others. She also co-presides over the Oakland Reentry Court.
Judge Ryu began her career as a commercial litigator at a large San Francisco firm before specializing in employment class actions as a named partner in a small firm.  Prior to taking the bench, Judge Ryu was a Clinical Professor of Law at U.C. Law San Francisco, and before that at Golden Gate University Law School.
She has been honored as a California Lawyer of the Year in Employment Law. She is the recipient of the Asian American Bar Association's Joe Morozumi Award for Exceptional Legal Advocacy, the Rutter Award for Excellence in Teaching, and the National Asian Pacific American Bar Association's Trailblazers Award. She co-designed a national training institute on class actions, and has written and lectured in the areas of employment law, e-discovery, pretrial practice, attorneys' fees, class actions, ethics, and professionalism.
Judge Ryu graduated with honors from Yale University and received her law degree in from U.C. Berkeley Law School.