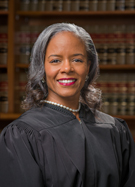 Magistrate Judge Kandis A. Westmore
Oakland Courthouse
1301 Clay Street, Oakland, CA 94612
Judge Westmore will continue to hold hearings by Zoom or teleconference, and will not resume in-person proceedings until January 2022 at the earliest.  See Judge Westmore's calendar for connection information.
Please click the link below to join webinars.  If you are a case participant, you will join as an attendee, then you will be brought into the proceeding by court staff.
https://cand-uscourts.zoomgov.com/j/1605596548?pwd=UWF5Qk91UWx0aXJVVDAyUXprUVNUQT09
Webinar ID: 160 559 6548
Password: 372909
Joining a Webinar by Phone or Other Connection
IMPORTANT NOTE:  If you are a case participant (attorney, party, witness, or other person who will actively participate in the hearing), it is strongly recommended that you join Zoom using the Zoom application rather than by a telephone connection.  If you must appear by telephone, the numbers posted for each judge are for the public and are listen-only, so you will need to contact the Courtroom Deputy (CRD) at least one business day before the hearing to request a Zoom invitation (which will be sent via email) in order to join the hearing as a case participant.
Local telephone dial-in:
(669) 254-5252  or (646) 828-7666
International numbers available: https://cand-uscourts.zoomgov.com/u/acJsvdBQuG
H.323/SIP room system (Polycom/Tandberg/Cisco/etc.):
H.323: 161.199.138.10 (US West) or 161.199.136.10 (US East)
SIP: 1605596548@sip.zoomgov.com

View Judge Westmore's Schedule of Upcoming Proceedings…
View Scheduling Notes…
Weekly Court Calendar Schedule
Please note special hearing times below for May & November 2021.
Criminal Law & Motion
1st & 3rd Thursdays
May & November 2021:
1:30 p.m.
11:00 a.m.
Criminal Duty Matters
Daily during Duty Months
10:30 a.m.
Civil Law and Motion
1st & 3rd Thursdays
May & November 2021:
1:30 p.m.
11:00 a.m.
Case Management Conferences
Tuesdays
May & November 2021:
1:30 p.m.
11:00 a.m.
Courtesy/Chambers Copy Requirements
The submission of chambers copies is often required for electronically filed documents. Whereas the local rules state whether and how soon chambers copies must be submitted, judges' individual standing orders sometimes create additional requirements and may differ from the local rules in other particulars. If they are not in agreement, these orders supersede the local rules.
View general information requirements for courtesy/chambers copies under the local rules.
The pertinent parts of Judge Westmore's standing orders are set forth below:
Under Civil L.R. 5-1 and 5-2, parties must lodge an extra paper copy of any filing, with the exception of the written consent/declination to the assignment of a United States Magistrate Judge. All chambers copies must be marked "Chambers Copy" and submitted to the Oakland Clerk's Office in an envelope clearly marked "Magistrate Judge Kandis Westmore," and include the case number on the envelope. All chambers copies of e-filed documents must include the running header created by the ECF System on each page. All exhibits must be clearly marked and tabbed. E-filed documents must be cited in all other documents as follows: Dkt. No.__ at ___. Chambers copies must be mailed or delivered to chambers according to the deadlines set forth in Civil Local Rule 5-1(e)(7).
Any party filing a dispositive motion shall email a copy of the motion in Word format (.doc or .docx) to kawpo@cand.uscourts.gov.
Any stipulation or proposed order in a case subject to e-filing should be submitted by email to kawpo@cand.uscourts.gov in Word format (.doc or .docx) on the same day the document is e-filed. This address should only be used for this stated purpose unless otherwise directed by the Court.
Delivery Address
Ronald V. Dellums Federal Building
& United States Courthouse
Office of the Clerk
1301 Clay Street, Suite 400 S
Oakland, CA 94612
About Magistrate Judge Kandis A. Westmore
The Honorable Kandis A. Westmore was appointed as a Magistrate Judge for the United States District Court for the Northern District of California in 2012. She is assigned to the Oakland Division.
Judge Westmore served as a law clerk with the Contra Costa County Public Defender's Office before beginning her legal career at an Oakland-based boutique law firm specializing in plaintiffs' civil rights litigation.
Judge Westmore joined the Oakland City Attorney's Office in 1999 as a Deputy City Attorney. During her 13 year tenure with the City, she advised City agencies and litigated code enforcement and drug nuisance abatement cases. She also served in the Litigation Division as both a trial attorney and a law and motion attorney, where she filed suit on behalf of the City and defended the City and its employees on a wide range of matters in federal and state trial and appellate courts, including civil rights, personal injury, inverse condemnation, labor and employment, and complex litigation. Judge Westmore has been publicly recognized by community organizations, the City of Oakland, and elected officials for her contributions and service to the City of Oakland and its residents.
Prior to taking the bench, Judge Westmore served as President-Elect of the Alameda County Bar Association (ACBA), and volunteered for the ACBA Volunteer Legal Services Corporation's Pro Bono Program representing low-income individuals in family law cases. She currently serves as a member of the court's Community Outreach Committee and co-leads the court's Alternatives to Incarceration Program (ATIP). 
She is also an adjunct professor at Golden Gate University School of Law, where she teaches Honors Evidence.
Judge Westmore received her B.A. from the University of California, Berkeley in 1989, and her J.D. from the University of San Francisco School of Law in 1997, all while working full-time and being a wife and mother of two young children. As a law student, Judge Westmore served as a judicial extern to the Honorable Saundra Brown Armstrong of the United States District Court for the Northern District of California.