Important
: Any recording of a court proceeding held by video or teleconference, including "screen-shots" or other audio or visual copying of a hearing, is absolutely prohibited. Violation of these prohibitions may result in sanctions, including removal of court-issued media credentials, restricted entry to future hearings, denial of entry to future hearings, or any other sanctions deemed necessary by the court.
See
Notice Regarding Press and Public Access to Court Hearings
---
Last modified: June 19, 2020 4:26 pm
The court will not provide technical support for Zoom participants or attendees. Please contact the Zoom Help Center, your local IT support, or other online guidance.
Case Participants
Attorneys, witnesses, case parties, etc., ("panelists") in a Zoom proceeding with the court must follow the guidance below, as adequate preparation and testing of the system are required to ensure a good experience for everyone involved. For security and enforcement of court standards, the court may disable some Zoom interactions (such as chat, screen share, whiteboard, Q&A, raise hand, react, etc.).
Attendees
The public, press and or other non-participating observers ("attendees") of a Zoom proceeding with the court should please follow this guidance, although much of the guidance below (especially regarding language interpretation) will still be helpful. Access information for attendees will be available on the court's Remote Hearings web page, on PACER, on the presiding judge's calendar, or by emailing media@cand.uscourts.gov.  Attendees will be able to see and/or hear the court proceeding in the same manner as the participants, and will have a similar experience to sitting in the courtroom gallery. Please note that some proceedings may provide phone-only connectivity via Zoom or other means, and that hearings may be limited to a total of 100 people.
---
Zoom Account and Software
Settings
Zoom has a lot of settings, and as the Zoom system evolves, certain aspects or features may change. Below are a few settings recommended by the court to improve your video conference.
General: Ask me to confirm when I leave a meeting:

ON

(Helps prevent unintended departures)
Video: Enable HD:

OFF

(Helps prevent poor video performance, and usually looks just as good as HD)
Video: Always display participant names on their video:

ON

Video: Always show video preview dialog when joining a video meeting:

ON

(Final check before your video displays to others)
Learning
The court will likely use only the audio and video functionality of Zoom. Other functions such as text chat, screen sharing, etc., will likely be disabled for your session, and you need only learn the basics of observing or participating in a Zoom Webinar by audio or video. Consult the following sources to learn how to select the correct audio and video source, how to mute/unmute your audio, and and how to Start/Stop your video:
Recommendations
Mute your phone, and mute all sounds from all other applications (email notifications, chat messaging, etc.).
Avoid using a mobile device if possible. Although tablets (iPads) and smartphones can be used, they are very limited, and the performance is inferior.
Avoid using battery power only (laptops, etc.). Plug into a good power source while in a Zoom meeting.
Avoid using an open microphone and speakers, such as those that are built-into laptops or a webcams. Using a good quality headset (headphones with mic) will often help ensure you can be heard, and can hear others with maximum quality.
Avoid noisy and echoing locations. Use of a headset will improve audio quality when this is unavoidable.
Avoid distracting real or virtual backgrounds. Suitable example: ZoomGrey01.jpg
Avoid poor camera positioning (if possible). Try to frame yourself so you take up most the screen, at eye level.
Avoid using WiFi if possible. Connection via a hard-wire Ethernet cable will always be faster and more reliable than WiFi. If you must use WiFi, make sure you're in close range.
Avoid running any unnecessary applications besides Zoom, to conserve your computer's processing power and networking.
For home networks, if possible, avoid sharing your internet service with others during the session.
Before Every Court Session using Zoom
Connect your device to power.
Make sure your internet connection is good:
https://www.pcworld.com/article/2048594/how-to-test-your-home-internet-speed.html
Test your video.
Test your audio.
Turn off all audio disruptions (phones, messaging alerts, email alerts, etc.)
Run a quick test to connect with another Zoom user, or use the Zoom test:
https://support.zoom.us/hc/en-us/articles/115002262083-Joining-a-test-meeting
---
Case Participants: In-Person Hearings That Incorporate Zoom
The Court has resumed in-person criminal hearings in limited circumstances. The number of people allowed in the courtroom will be sharply limited, but the hearings will be publicly accessible through either Zoom or a phone conference line. If the hearing is being made accessible by Zoom, each courtroom participant will be connected to Zoom through a laptop and a headset, so that they can be seen and heard through the video-conference as well as in the courtroom. This means that if you are an attorney who will be physically present in the courtroom, you must bring the following equipment with you and be prepared to use it during the hearing:
Laptop – Wi-Fi, camera and audio functions must be fully operational, and the Zoom application must be installed and fully tested.
Smartphones and tablets (such as iPhones/iPads/Androids, etc.) utilize a less capable version of Zoom, so they're not recommended, but they are acceptable if a laptop is unavailable.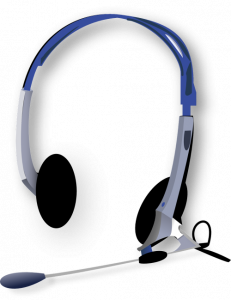 Headset (headphones with built-in "boom" microphone) – To prevent feedback, echo and poor audio in the courtroom, you must bring your own headset, as you will not be allowed to use your laptop mic and speakers.
Headsets with a "boom mic" placed close to your mouth (as shown) are strongly preferred, and will help clarity when speaking through a mask. All types of headsets are acceptable (1-ear or 2-ear, over-ear, in-ear, etc.), and can often be purchased for very little money. Wired headsets are strongly recommended due to their ease of use and reliability.
AVOID: Wireless (Bluetooth) headsets can be unreliable. Ear-bud style headsets (with the mic on the cord) are too sensitive and will cause echo problems.
All equipment and the Zoom application should be tested working before court. You should also be familiar with all other instructions on this page regarding attorney participation in a Zoom hearing. Witnesses and defendants will be provided equipment by the Court.
---
Attending with Language Interpretation
Click the interpretation "globe" icon at the bottom of the screen.
Click the language you want to hear (i.e., Spanish).

Click "Mute Original Audio" to silence all other languages. *
To turn off interpretation, click "Off" *
* NOTE: If interpretation is in progress, all languages will be heard if language selection is off, or if Mute Original Language is off.
If you are an interpreter performing remote language interpretation for the court:
See Zoom's video introduction on Simultaneous Interpretations for Meetings and Webinars.
Review Zoom's online information about the process.
Review this video demo of the process for interpreters.

Practice

with colleagues or friends!
Please note that for some proceedings, consecutive interpreting will be required due to technical limitations between certain locations. For these, you will be brought into the Zoom as a regular participant, similar to an open party-line call.