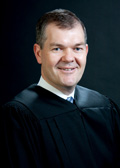 View Judge Cousins' Schedule of Upcoming Proceedings…
View Scheduling Notes…
Weekly Court Calendar Schedule

| | | |
| --- | --- | --- |
| Civil Law & Motion | Wednesdays | 11:00 a.m. |
| Case Management Conferences | Wednesdays | 10:00 a.m. |
| Civil Pretrial Conferences | Wednesdays | 2:00 p.m. |
| Criminal Law & Motion | Wednesdays | 11:30 a.m. |
| Criminal Duty Matters | Daily During Duty Months | 1:00 p.m. |
| Trials | Monday – Friday | 9:00 a.m. – 4:00 p.m. |
Chambers Copy Requirements
The processing of unnecessary chambers copies wastes resources and burdens the court.  Pursuant to Civil Local Rule 5-1(d)(7), chambers copies should not be submitted unless required by the assigned judge's standing order or specifically requested by the assigned judge.
Judges' standing orders may include additional requirements and may differ from the local rules in other particulars.  If they are not in agreement, a judge's standing order supersedes the local rules.
The pertinent parts of Judge Cousins' standing orders are set forth below:
No chambers copies of motions or discovery-related filings are required unless requested.
Delivery Address
Robert F. Peckham Federal Building
& United States Courthouse
Office of the Clerk
280 South 1st Street
San Jose, CA 95113
About Magistrate Judge Nathanael Cousins
Magistrate Judge Nathanael Cousins has his chambers in San Jose, but he has served in each courthouse in the Northern District of California, from Salinas to Eureka.
He joined the Court in 2011 from the U.S. Department of Justice, where he worked as an Assistant U.S. Attorney (San Jose and San Francisco offices) and Antitrust Division Trial Attorney (San Francisco). In those positions, he had criminal jury trials before many of the Judges of this Court. He was part of the team that prosecuted global price-fixing cartels in memory chip markets. He also coordinated Operation Ceasefire, a community program to reduce gang violence in Monterey County.
Immediately before joining the Department of Justice, he worked as a civil litigation associate and then partner in the Chicago office of Kirkland & Ellis, and before that he was a litigation associate in the Los Angeles office of Greenberg Glusker. His civil litigation cases focused on antitrust, class actions, consumer fraud, securities fraud, and civil rights. He was pro bono class counsel for inmates at an Illinois state prison.
Judge Cousins graduated from the University of California, Hastings College of the Law. After law school, he clerked for the Hon. F.A. Little, Jr., Chief Judge of the U.S. District Court, Western District of Louisiana. He received his undergraduate degree in political science from Stanford. While in school, he studied abroad in Russia and the Netherlands.
Judge Cousins has taught legal writing, moot court, and antitrust law at Hastings, and participates regularly in moot court and trial training programs at Bay Area law schools. He also coaches basketball and soccer.