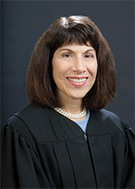 District Judge Beth Labson Freeman
San Jose Courthouse, Courtroom 3 – 5th Floor
280 South 1st Street, San Jose, CA 95113

Please click the link below to join webinars (public hearings). If you are a case participant, you will join as an attendee, then you will be brought into the proceeding by court staff.
https://cand-uscourts.zoomgov.com/j/1607141430?pwd=OEszVGhPbTcxbjRGZngveGhmRnV5UT09
Webinar ID: 160 714 1430
Password: 773627
Joining a Webinar by Phone or Other Connection
IMPORTANT NOTE:  If you are a case participant (attorney, party, witness, or other person who will actively participate in the hearing), it is strongly recommended that you join Zoom using the Zoom application rather than by a telephone connection.  If you must appear by telephone, the numbers posted for each judge are for the public and are listen-only, so you will need to contact the Courtroom Deputy (CRD) at least one business day before the hearing to request a Zoom invitation (which will be sent via email) in order to join the hearing as a case participant.
Local telephone dial-in:
US: +1 (669) 254-5252  or +1 (646) 828-7666
International numbers available: https://cand-uscourts.zoomgov.com/u/advFLxrTkx
H.323/SIP room system (Polycom/Tandberg/Cisco/etc.):
H.323: 161.199.138.10 (US West) or 161.199.136.10 (US East)
SIP: 1607141430@sip.zoomgov.com

View Judge Freeman's Schedule of Upcoming Proceedings…
View Scheduling Notes…
Weekly Court Calendar Schedule

| | | |
| --- | --- | --- |
| Criminal Law & Motion | Tuesdays | 9:00 a.m. |
| Civil Law & Motion | Thursdays | 9:00 a.m. |
| Civil Case Management Conference | Thursdays | 11:00 a.m. |
| Civil Pretrial Conference | Thursdays | 1:30 p.m. |
| Criminal Pretrial Conference | Thursdays | 1:30 p.m. |
Courtesy/Chambers Copy Requirements
The submission of chambers copies is often required for electronically filed documents. Whereas the local rules state whether and how soon chambers copies must be submitted, judges' individual standing orders sometimes create additional requirements and may differ from the local rules in other particulars. If they are not in agreement, these orders supersede the local rules.
View general information requirements for courtesy/chambers copies under the local rules.
The pertinent parts of Judge Freeman's standing orders are set forth below:
1. ECF Filing Stamp
Chambers copies shall be generated from ECF after electronic filing so that they bear the ECF filing information along the top of the page: case number, document number, and filing date.
2. Format
In general, chambers copies must be single-sided (printed on only one side of the page), 2-hole punched at the top, and stapled or fastened with metal prongs. However, chambers copies of exhibits that are more than six inches thick must be placed in binders, and chambers copies submitted in connection with a Final Pretrial Conference must be 3-hole punched on the left side. Whether or not in binders, chambers copies must include numbered bottom tabs (not side tabs) between exhibits. Each chambers copy shall be marked "Chambers Copy" and shall be submitted to the Clerk's Office in an envelope marked with the case number and with the words "Chambers Copy" and "Judge Beth Labson Freeman."
3. Sealed Documents
When all or a portion of a filing has been sealed, the chambers copy of that filing shall contain a complete set of unredacted briefs and exhibits (and no redacted briefs or exhibits). Chambers copies must indicate via yellow highlighting which portions of the documents are sealed. Highlighting in colors other than yellow will result in the document being stricken.
4. Deposition Transcripts
Deposition transcripts submitted to the Court must be in single-page format. Transcripts in 4-in-1 format, in which 4 pages of the deposition transcript are reduced to fit on a single document page, will be disregarded.
Delivery Address
Robert F. Peckham Federal Building
& United States Courthouse
Office of the Clerk
280 South 1st Street
San Jose, CA 95113
About District Judge Beth Labson Freeman
Born: Washington, DC
Federal Judicial Service:
Judge, U. S. District Court, Northern District of California
Nominated by Barack Obama on January 6, 2014. Confirmed by the Senate on February 25, 2014 and received commission on February 26, 2014.
Education:
University of California, Berkeley, B.A., 1976
Harvard Law School, J.D., 1979
Professional Career:
Private practice, Washington, D.C., 1979-1981
Private practice, San Francisco, California, 1981-1983
Deputy county counsel, San Mateo County, California, 1983-2001
Judge, Superior Court of California, County of San Mateo, 2001-2014; presiding judge, 2011-2012