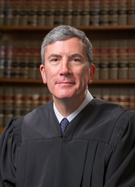 View Judge Tigar's Schedule of Upcoming Proceedings…
View Scheduling Notes…
Weekly Court Calendar Schedule

| | | |
| --- | --- | --- |
| Civil Law & Motion | Thursdays  | 2:00 p.m. |
| Criminal Law & Motion | Fridays | 9:30 a.m. |
| Pretrial Conferences | Fridays | 1:30 p.m. |
| Trials | Monday – Thursday | 8:00 a.m.-1:30 p.m. |
| Case Management Conferences | Tuesdays | 2:00 p.m. |
| Tutorial/Claim Construction | Mondays | 2:00 p.m. |
Courtesy/Chambers Copy Requirements
The submission of chambers copies is often required for electronically filed documents. Whereas the local rules state whether and how soon chambers copies must be submitted, judges' individual standing orders sometimes create additional requirements and may differ from the local rules in other particulars. If they are not in agreement, these orders supersede the local rules.
View general information requirements for courtesy/chambers copies under the local rules.
The pertinent parts of Judge Tigar's standing orders are set forth below:
The Court requires courtesy copies of motions and related briefing, including attachments, exhibits, declarations, and other accompanying material. The Court discourages the service of courtesy copies of any other documents, except when specifically requested by the Court.
Courtesy copies shall be double-sided and three-hole-punched at the left margin. Courtesy copies of e-filed documents must bear the ECF stamp (case number, document number, date, and page number) on the top of each page. Side tabs, rather than bottom tabs, should be used to separate exhibits.
The quality, condition, and labeling of binders, when used, should be such that the Court can easily identify, review, and transport the binders' contents. Whenever possible, the spine of a binder should not exceed three inches in width, even if that limitation results in the use of more than one binder.
All courtesy copies or hard copies of documents must be lodged with the Clerk's office in Oakland for delivery to the chambers of Judge Tigar, even if the document is related to a case filed in or pending in San Francisco or San Jose.
Delivery Address
Ronald V. Dellums Federal Building
& United States Courthouse
Office of the Clerk
1301 Clay Street, Suite 400 S
Oakland, CA 94612
About District Judge Jon S. Tigar
Born in London, England.
Federal Judicial Service:
Judge, U.S. District Court, Northern District of California
Nominated by Barack Obama on June 11, 2012, to a seat vacated by Saundra Brown Armstrong. Confirmed by the Senate on December 21, 2012, and received commission on January 18, 2013.
Education:
Williams College, B.A., 1984
University of California, Berkeley, Boalt Hall School of Law, J.D., 1989
Professional Career:
Law clerk, Hon. Robert S. Vance, U.S. Court of Appeals for the Eleventh Circuit, 1989-90
Private practice, San Francisco, California, 1990-92, 1994-2002
Trial attorney, Office of the Public Defender, San Francisco, California, 1993-94
Judge, Superior Court of California, County of Alameda, 2002-12